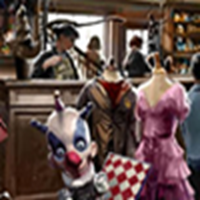 'Dervish and Banges'
New conceptual artwork of 'Dervish and Banges' unveiled
February 25, 2009 at 6:24 PM ET
tman93 HPANA (via Wizarding World of Harry Potter)

Universal Orlando, Harry Potter, Wizarding World, Dervish and Banges,
---
The Wizarding World of Harry Potter at Universal Orlando Resort in Florida has just released a brand new image of another location in Hogsmeade. Dervish and Banges will feature school supplies, Quidditch gear and wizarding equipment.
You can check out the latest art by clicking here

and going to the gallery.