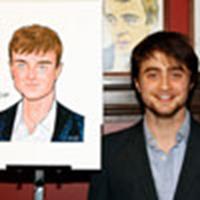 Dan Radcliffe & his caricature
'Potter' actor news round up
January 29, 2009 at 7:09 PM ET
Geri HPANA (via Various)

dan radcliffe, daniel radcliffe, rupert grint
---
Since news is a bit slow on the Harry Potter movie side, we wanted to fill you in on some news that has been crossing the web in reference to actors Rupert Grint and Daniel Radcliffe.
Rupert is scheduled to participate in a Q&A with his fellow cast members and director from his new film Cherrybomb at this years Berlin Film Festival

next week. With the premiere screening

of the movie taking place on Sunday, February 8th. You can see some hi-res images from the movie here

.
Also, while Dan is finishing up his play Equus in New York, he has had his own caricature added

to the walls of the famed theater restaurant Sardi's earlier today. You can see additional pictures from the event here

courtesy of SnitchSeeker.
Thanks to DR.com

, RG.net

, ICM

and everyone else who emailed.