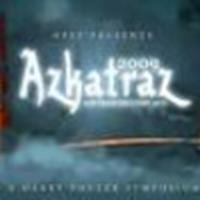 Azkatraz 2009
Wrock around the Rock with Azkatraz 2009
December 17, 2008 at 1:26 AM ET
Jeremy HPANA

Azkatraz 2009, HPEF, Harry Potter,
---
HPEF has announced

yet another attraction to the already jam-packed Azkatraz 2009 weekend. Wrock around the Rock is a four hour criuse around the San Francisco bay and Alcatraz.

There will be food, an open bar (three hour open bar with alcohol available for a small additional fee), and music from Brian from the Draco Malfoys, The Remus Lupins, The Whomping Willows, The House of Black, Ministry of Magic and more!

Also, we'll have one deck on the yacht that's music-free, with space for games, conversation and, of course, food!

For details, click here

.