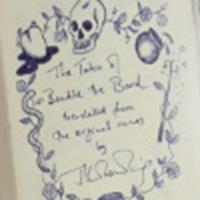 'Beedle the Bard'
'Beedle the Bard' to become a movie?
December 8, 2008 at 12:15 AM ET
Jeremy HPANA

Beedle the Bard, Warner Brothers, Harry Potter,
---
Cinemablend has an interesting article

online stating that Warner Brothers is already pursuing an opportunity to bring The Tales of Beedle the Bard to the big screen.
None of these stories (from Beedle the Bard) seems to have any connection to the other, which ought to make it difficult for Warners to fit them all into a single film. Could they be planning five movies? That would seem unwise. These are short stories after all, it's unlikely there's enough material in any one story to justify a feature film.
According to our sources, Warners is still trying to figure out exactly how to make this work. But there's definitely a strong interest in making Tales of the Beedle Bard: The Movie happen, once Harry Potter is over with.
This of course has not been confirmed, but we shall update you when we recieve anymore information.
Thanks to drhallows

for the tip!