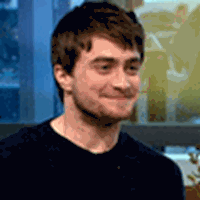 Daniel Radcliffe
Update: Dan Radcliffe video from 'The Early Show'; guest on 'Charlie Rose'
November 18, 2008 at 4:41 PM ET
Geri HPANA (via Various)

Daniel radcliffe, richard griffiths, dan radcliffe, equus, harry potter and the half-blood prince movie, half-blood prince movie, deathly hallows movie
---
Daniel Radcliffe appeared

on The Early Show in New York earlier today to discuss his Broadway play Equus. He also mentioned during the interview that filming for Harry Potter and the Deathly Hallows would be long and that he hasn't read a script yet.
You can watch the video of Dan's appearance below or on our YouTube page

:
Also note that Dan and Richard Griffiths are scheduled to appear on the Charlie Rose

show, which airs on PBS

tonight. Please check your local

for times. You can also view some high-quality pictures of Daniel here

courtesy of DR.com.
Additionally, Dan's appearance from Inside the Actor's Studio

will air on Bravo on Monday, December 1.
Thanks to DR.com

, SnitchSeeker

and everyone who emailed.
UPDATE: You can now watch online the episode in which Daniel and Richard appeared

on the Charlie Rose show. Thanks to TLC

for the update.