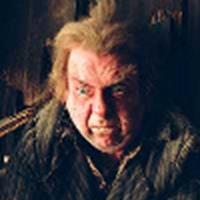 Peter Pettigrew
Peter Pettigrew: a top-ten best fake death
November 2, 2008 at 7:44 PM ET
Jeremy Yahoo! News (via Guardian Unlimited)

Harry Potter, Peter Pettigrew, Best Fake Deaths, Guardian,
---
The infamous return and escape of Peter Pettigrew in Harry Potter and the Prisoner of Azkaban has made The Guardian's list

of top-ten best fake deaths in literature.
In the third part of the Potter roman-fleuve, Peter Pettigrew pretends that Sirius Black has killed him, cutting off one of his own fingers to make it seem that the rest of him has been blasted to atoms. For 12 years he adopts the guise of Ron Weasley's pet rat, Scabbers. But the severed digit gives him away.
To read the full list, click here

.