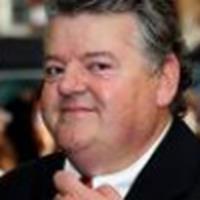 Robbie Coltrane
Update: Robbie Coltrane talks 'Harry Potter' on red carpet
October 28, 2008 at 6:56 PM ET
Jeremy BBC

Robbie Coltrane, Harry Potter, The Brothers Bloom
---
At the premiere for his upcoming movie, The Brothers Bloom, Robbie Coltrane spoke

briefly about the Harry Potter films.
So are you enjoying the downtime from Harry Potter?
I'm actually producing these days. I've got three things on the go. I'm trying to knock one of them out before we start filming Potter seven in February. There's going to be downtime between film one and two. You know, they're shooting it in two parts, so there'll be a week or two in the middle.
I'm an exec these days, so I'm going to have to start wearing a tie and being rude to people. Slamming the phone down and telling lies.
Each Harry Potter film seems to get bigger and bigger.
They were always written as another year in the children's lives and they're 17 now of course. So life has changed for them.
Romance is in the air. The threats get more and more threatening as his powers and knowledge and all of their powers and magic get stronger. They have to up the anti. The books are like that, that's the way they're written.
On a humerous note, Robbie spoke about how he was almost conned (a theme in his new film):
Somebody tried to sell me a duff Rolex watch in a pub in Glasgow once. He said: 'This is a timeless classic Bob. It's got two dials for when you're abroad. If you're an international jetsetter, you've got the time in your home and the time in the country you're in'.
I turned it over and I said: 'It's got a stainless steel back. Rolex's don't have stainless steel backs'. And he said: 'Aye, it's a phoney. Sorry about that' and walked away!
Thanks to Snitchseeker, who has acquired photos from the event, which you can see in their galleries here

.
UPDATE: Thanks to TLC

for letting us know about a video

interview with Robbie (approx 2:42) in which he discusses his scenes in the upcoming Deathly Hallows.