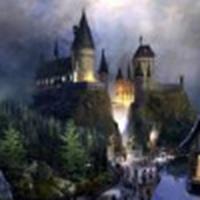 'Wizarding World'
New ride inside of Hogwarts at 'Wizarding World' theme park?
October 24, 2008 at 6:52 PM ET
Jeremy The Leaky Cauldron

Wizarding World of Harry Potter, Harry Potter, Universal, theme park,
---
There are several rumors

circulating the internet that a 200 foot-high ride will be featured inside the halls of Hogwarts at the Wizarding World of Harry Potter theme park

.
As many have suspected, this confirms that the big new ride will be placed inside the massive Hogwarts castle that is currently under construction. From what I've heard the ride system is already on site, but locked away in a massive warehouse somewhere protected by guards likely with orders to shoot first and ask questions later. Once the ride portion of the castle is finished and walled in, they will begin to move in the pieces and build it up away from prying eyes until they are ready to make the big announcement.
Please treat this as a rumor at the moment, we shall try to receive confirmation on this as soon as possible.