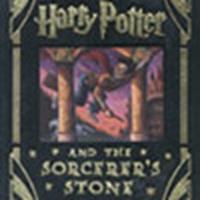 'Beedle the Bard'
Holiday sale for 'Potter' merchandise at Scholastic
October 12, 2008 at 11:34 PM ET
Jeremy MuggleNet

Scholastic, Harry Potter, Beedle the Bard,
---
In honor of Columbus Day weekend, Scholastic is having a sale at their online store with some items as much 75% off! And you can check out all of their Harry Potter deals right here

.
Itmes include Harry Potter bust, Harry Potter hard-covered box set and more! A brand new item that is on sale via a separate link on Sholastic is the Sorcerer's Stone Leather Bound Edition

. It can be purchased for 33% off at a mere $49.