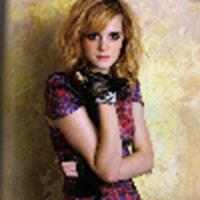 Emma Watson
Emma Watson featured in 'Flare Magazine'
October 11, 2008 at 2:48 AM ET
Jeremy HPANA (via SnitchSeeker)

Emma Watson, Harry Potter, Flare Magazine
---
Emma Watson was featured in the November issue of Flare Magazine

, in which she talked about filming Harry Potter, and her relationship with her co-stars.
The evidence of her success is compelling. At nine years old, she was among thousands of girls vying to play the coveted role of Hermione and her eagerness to thrive at the character slowed down shooting during Harry Potter and the Philosopher's Stone. "I wanted everything to be so perfect. I would work so hard to memorize my lines and the scene; we would have to stop shooting because I was mouthing Rupert [Grint]'s and Dan [Radcliffe]'s lines at the same time. That's something I had to get over."
Seven years later, the young actor has graduated to blockbuster star status. She's learned to position herself in her best light, she's stopped looking straight into the camera, she knows the different between the key grip and a dolly, and she's just wrapped one of her most challenging scenes in the highly anticipated Harry Potter and the Half-Blood Prince, slated for release in July 2009. "I had to cry for the first time when Hermione watches Ron kiss Lavender. It was difficult to bring up all that emotion and hurt in front of a full crew, and not just once, but over and over again from different angles."
You see scans from Emma's recent photoshoot via SnitchSeeker

.