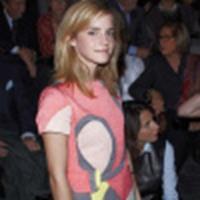 Emma Watson
Update: Emma Watson talks fashion, future in new interview
October 7, 2008 at 7:46 PM ET
Jeremy HPANA (via EmmaWatson.net)

Emma Watson, Chanel, Fashion, Harry Potter
---
Update: The Crimson is reporting

that Emma Watson has recently visited Harvard, which would confirm her saying that she was to visit colleges on the East Coast.
During her trip to France for the Chanel fashion week, Emma Watson spoke

to Style.com about her experience of the fashion week, as well as her plans for the future.
The sweetest person I've met this Paris fashion week has been Emma Watson, the 18-year-old British actress making her first trek to the Parisian collections. "I've been to fashion shows before, like the Chanel show that was in London in December," she told me. "But this is the first time I've been to shows like this. This is my first time at fashion week, and let me tell you, it's pretty intense."
After her time in Paris, she's planning a trip to the East Coast to look at universities.
To see pictures from her appearence at the Chanel fashion show in Paris, courtesy of SnitchSeeker, click here

.