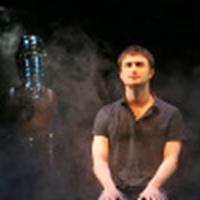 Equus
Update: 'Equus' makes a splash on Broadway
September 26, 2008 at 8:54 PM ET
Jeremy The Leaky Cauldron (via Various)

Daniel Radcliffe, Richard Griffiths, Equus, Broadway, Harry Potter
---
Update: More reviews of the performance are trickling online, you can read Time's

review, as well as co-star Anna Camp's reaction to Daniel Radcliffe's performance.
"He carries the show, and he's Harry Potter, so everybody's so focused on him and waiting for him to take his clothes off. But it's really about my character being the one in control and guiding him through the entire thing. It's so important to the story that we do take our clothes off, because it's about confronting him with complete sexuality, and that's how the last event of the play can occur, only if he's truly, truly confronted."
Glenn Close, Kathleen Turner, and Dominic Cooper were among the many stars who gave Daniel Radcliffe a standing ovation after the Broadway Premiere of 'Equus' at the Broadhurst Theatre in New York City last night.
The 19-year-old admitted he had been "terrified" before Thursday's opening night and that he had yet to read any reviews of his performance.
Actor Richard Griffiths said his young co-star had taken "big strides" since the play's London premiere last year. "He's not a kid anymore," said the Tony award-winner. "He's a young man and he deserves whatever breaks that brings."
In other 'Equus' related news, The New York Times has an extensive review of the opening night performance, and gave praise to the work of Daniel Radcliffe, and Richard Griffiths.
The young wizard has chosen wisely. Making his Broadway debut in Thea Sharrock's oddly arid revival of Peter Shaffer's "Equus," which opened Thursday night at the Broadhurst Theater, the 19-year-old film star Daniel Radcliffe steps into a mothball-preserved, off-the-rack part and wears it like a tailor's delight — that is, a natural fit that allows room to stretch. Would that the production around him, first presented in London, showed off Mr. Shaffer's 1973 psychodrama as flatteringly as it does its stage-virgin star."
To read the full review, click here

.