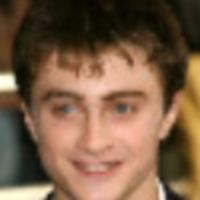 Daniel Radcliffe
Dan Radcliffe talks 'Equus' in new interview
September 25, 2008 at 12:45 AM ET
Jeremy HPANA (via USA Today)

Daniel Radcliffe, Equus, Interview, Harry Potter
---
In a new interview

with USA Today, Daniel Radcliffe spoke about his current work in Equus and how performing live on stage compares to the long hours on the set of a film.

But Radcliffe, 19, dismisses the notion that live performance need be larger in scale or that doing eight shows a week requires more energy than a movie, "where there can be really long hours, and you might do 20 takes on any given shot."

His work in the Potter series helped Radcliffe develop the stamina required for the sexually and spiritually charged Equus, in which he plays Alan Strang, a teenager who undergoes intense psychoanalysis after committing a bizarre and brutal crime.

"There's a lot of sweat on me by the end," Radcliffe says. "I'm a physically repellent thing. At least it's good exercise. I don't have to go to the gym."

Dan also talked about the reception he has grown costumed to recieving from his fans:

The fans that wait for him at the stage door "are really supportive. Someone said to me the other day, 'I'll never see Harry Potter the same way.'

"I wanted to say, 'See him the way you should always see him, as a character — just like Alan.' I hope to play as many characters as I can. I'll keep coming back to the stage and film for as long as they'll have me."

Equus is currently showing at the Broadhurst Theatre in New York City.