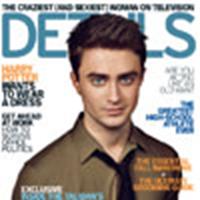 Dan Radcliffe
Dan Radcliffe featured in DETAILS magazine
September 2, 2008 at 10:23 AM ET
Geri HPANA (via Details magazine)

daniel radcliffe, dan radcliffe
---
Daniel Radcliffe once again graces the cover of DETAILS magazine and in an interview accompanying the magazine talks about the future, Harry Potter and more.
Some snippets from the interview

:
On his dream role: I think part of me would love to play a drag queen, just because it would be an excuse to wear loads of eye makeup.
On his generation: I don't pretend to do anything particularly wild. People talk about rebellion and they say, 'Where is the teenage angst?' But I say I try to do it simply by the choices I make in the work I do. I just like wrong-footing people. I write poetry and I love it. I like being different from most other people in my generation.
Video with complete photo spread will be posted later today, with the issue available on newsstands Tuesday, September 9th. Thanks to Meredith from DETAILS magazine for the information.