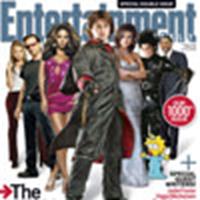 EW's 1,000th issue
'Goblet of Fire' included in EW's 'New Classics Books' list
June 20, 2008 at 1:15 PM ET
Geri HPANA (via Entertainment Weekly)

harry potter and the goblet of fire, goblet of fire, hpgof
---
With the 1,000th issue of Entertainment Weekly on newsstands today, the Harry Potter and the Goblet of Fire book is included

at the number 2 spot on their 'New Classics Books' list.
EW says:
Harry Potter and the Goblet of Fire
J.K. Rowling (2000)
The first three Harry Potter novels were pure kid stuff, and then, unexpectedly, Rowling went epic and dark - killing children, resurrecting evil, and sending Harry to war.
The full list can be viewed here

on their site. The special double issue hits newsstands today and has Daniel Radcliffe, Bono, Will Smith, Lisa Simpson and Johnny Depp on the cover.
Update: You can see scans of the articles here

courtesy of Magical-Menagerie

.