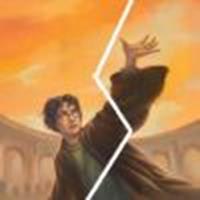 'Deathly Hallows' split
Report: 'Deathly Hallows' to be two films, directed by David Yates
March 12, 2008 at 5:25 PM ET
Cheeser The Leaky Cauldron (via LA Times)

harry potter and the deathly hallows, harry potter movie 7, harry potter split films, harry potter last movie, two parts, november 2008, may 2011
---
The Los Angeles Times just broke the long-rumored news

that "Harry Potter and the Deathly Hallows" will be split into two films, directed by David Yates from a script by Steve Kloves.
The report cites producer David Heyman and says the official announcement will be made tomorrow by Warner Bros. The films, simply titled "Part One" and "Part Two," will be released in November 2010 and May 2011 respectively.
Earlier today, SnitchSeeker posted an account

from a fan who said actor Matthew Lewis (Neville Longbottom) confirmed this news at Collectormania.
[Note: While visiting the set of 'Half-Blood Prince' in January, this editor had a strong feeling these decisions had already been made, although reps and stars alike were quite coy during interviews. You may remember HPANA posted these unconfirmed suspicions but was asked by Warner Bros. to remove the article.]