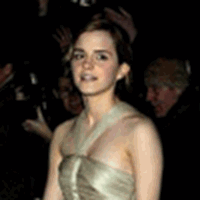 Emma Watson
Emma Watson updates site denying recent media reports
February 15, 2008 at 8:07 AM ET
Geri HPANA (via Emma Watson Official)

emma watson
---
Earlier this week, Emma Watson, Hermione in the Harry Potter movies, attended

the Burberry & Vanity Fair Portraits party in London and has updated

her web site denying recent news that she is 'dating' Razorlight member Johnny Borrell.
This week is Fashion Week and although I have been filming during the day I managed to make it to the Burberry and Vanity Fair party at the National Portrait gallery. The photographs were so beautiful and I was chuffed with the book of all them that they gave me.
I met Christopher Bailey (the designer which was really exciting, i also met Johnny Borrell (who is modeling for Burberry at the moment) and went on to PPQ in the same cab. I'd never met him before so that was great as I'm a big Razorlight fan.
But goodness, I am really going to have to watch who I stand next to from now on! Maybe I should stand next to Orlando Bloom and then we can be said to be 'dating'!