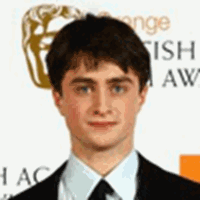 Daniel Radcliffe
Update: Radcliffe & Isaacs attend BAFTA's
February 10, 2008 at 10:43 PM ET
Geri HPANA

daniel radcliffe, dan radcliffe, jason isaacs, harry potter and the order of the phoenix movie, order of the phoenix movie, ootp movie, bafta's
---
Earlier this evening the BAFTA's

took place in London with Harry Potter actors Daniel Radcliffe and Jason Isaacs in attendance. Sadly, Order of the Phoenix did not receive any awards even though it had been nominated in two categories.
You can see pictures from the event at the following links:
You can also view video of Daniel here

courtesy of DR.com.
UPDATE: On a award related note, Order of the Phoenix won

the Outstanding Special Effects in a Motion Picture at this year's VES

award show.
UPDATE II: You an see hi-res images here

and a video interview with Dan here

- all courtesy of DR.com.