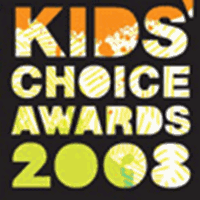 Nickelodeon's KCA 2008
'Potter' series nominated for Kid's Choice Award 2008
February 7, 2008 at 8:35 PM ET
Geri HPANA

kids' choice awards, choice awards, nick awards, kca, nick nomination, nick nominee, goblet of fire, harry potter series, potter series
---
The Nickelodeon Kids' Choice Awards

for 2008 have been announced and the Harry Potter book series has been nominated

nominated in their "Favorite Book" category.
Fans will be able to cast online at http://www.nick.com/kca beginning Monday, March 3rd in a total of 18 categories. Surprise awards also will be announced during the show and kids also will be able to vote via the Nick mobile website (wap.nick.com). Beginning Monday-Friday, March 10th-14th, a different category will be featured on-air each day, and kids again vote for their favorite online at Nick.com.
The Favorite Book category:
Buffy the Vampire Slayer Season Eight, Volume One: The Long Way Home
Diary of a Wimpy Kid
Harry Potter series (series)
How to Eat Fried Worms
The show will air live from Los Angeles on Saturday, March 29th (8-9:30 p.m. ET/PT), with host Jack Black.