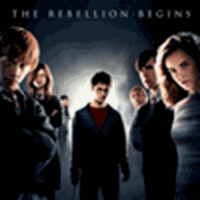 'Order of the Phoenix'
'Order of the Phoenix' nominated for BAFTA's Film Awards
January 16, 2008 at 7:29 AM ET
Geri HPANA

harry potter and the order of the phoenix movie, order of the phoenix movie, ootp movie, baftas film awards
---
The nominees for this year's BAFTA's Film Awards have been finalized and the Harry Potter and the Order of the Phoenix movie has received two nominations

for production design and special visual effects.
The movie will be competing against Atonement, Elizabeth: The Golden Age, There Will Be Blood and La Vie En Rose in the production design award category and against The Bourne Ultimatum, The Golden Compass, Pirates of the Caribbean: At World's End and Spider-Man 3 for the special visual effects award.
You may remember

that we posted at the beginning of the month that the movie had been included on the BAFTA's longlists of nominees in six categories.
The awards ceremony will be held on Sunday, February 10th at the Royal Opera House, Covent Garden in London.