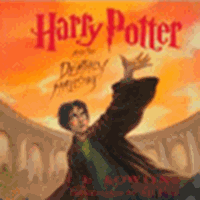 'Deathly Hallows'
'USA Today' picks 'Deathly Hallows' as book of the year
December 26, 2007 at 10:24 PM ET
Geri Yahoo! News (via USA Today)

harry potter and the deathly hallows, deathly hallows, hpdh
---
With 2007 slowly coming to a close, the last book in the Harry Potter series, Deathly Hallows, has been chosen

by USA Today as their book of the year.
According to the newspaper:
This year's choice had to be the final Harry Potter book. The reasons are as varied as the different wizards' wands found in Diagon Alley. There were the numbers: Hallows sold a record-breaking 11.5 million copies in the USA during its first 10 days on sale in July. Then there was the pre-publication hysteria: Would Harry die? Could the world's children - and a lot of adults - handle it? Was an early version posted on the Web the real thing? (Yes.) Months after the book's publication, Rowling triggered controversy by revealing that Hogwarts headmaster Albus Dumbledore was gay. The blogosphere went wild. But none of that matters. Hallows is the book of the year because Rowling gave her story an ending that was as graceful, unpredictable and satisfying as the series itself. She reaffirmed that magic can exist when someone opens a great book and enters a world created from words on paper. She made us believe that the imagination - like her own little wizard, now all grown up - still lives.