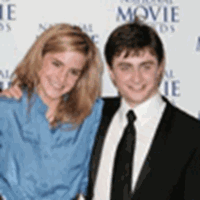 Emma Watson & Daniel Radcliffe
Radcliffe & Watson included on Yahoo's most popular stars list
December 25, 2007 at 8:17 PM ET
Geri HPANA (via Yahoo! Movies)

daniel radcliffe, dan radcliffe, emma watson
---
Daniel Radcliffe and Emma Watson, stars of the Harry Potter movies, are both included

in this years '10 Most Popular Stars of 2007' list from Yahoo.
#3 - Emma Watson
Emma Watson had her fans on the edge of their seats when it looked like she might not return for the last two Harry Potter films, but thankfully, she decided to stick with the series until graduation.
#10 - Daniel Radcliffe
A teenage Harry Potter got angry in this summer's The Order of the Phoenix, but it was news of his nude stage appearance in Equus that got Daniel Radcliffe the most attention this year.
Other notable stars on the list include Jessica Alba, Megan Fox, Jessica Biel, Aishwarya Rai, Angelina Jolie, Shia LaBeouf, Scarlett Johansson and Lena Headey.