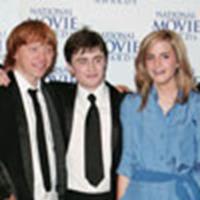 Rupert, Dan & Emma
'Harry Potter' trio included on Forbes '20 Under 25: The Top-Earning Superstars' list
December 4, 2007 at 8:08 AM ET
Geri HPANA (via Forbes.com)

daniel radcliffe, emma watson, rupert grint, dan radcliffe
---
Stars from the Harry Potter films, Daniel Radcliffe, Emma Watson and Rupert Grint have been included on Forbes '20 Under 25: The Top-Earning Superstars' list. Dan graces the list at number 6 while Emma and Rupert are at numbers 15 and 16 respectively. Additional actors on the list include basketball player LeBron James, football player Reggie Bush, Mary-Kate & Ashley Olson, Hilary Duff, Keira Knightley and Scarlett Johansson.
Number 6

: Daniel Radcliffe, $15 million
Born: July 23, 1989
Better known as the title character of the Harry Potter film franchise, Radcliffe generated a media frenzy this year after he appeared onstage nude in a West End revival of Equus. The fifth Potter film, this summer's The Order of the Phoenix, grossed $938 million worldwide, making it the second highest-grossing film of the year. Since his 2001 foray into wizardry at age 12, both Radcliffe and his paycheck have matured remarkably. The actor was offered a reported $145,000 for The Sorcerer's Stone six years ago. His most recent role earned an estimated $14 million.
Number 15

: Emma Watson, $4 million
Born: Aug. 24, 1988
Her coy suggestions to the press two years ago that she may need a break from the Harry potter film franchise, in which she plays Hermione Granger, no doubt sent Warner Brothers into convulsions. For the last three flicks, including last summer's Order of the Phoenix, she scored a substantial raise, earning an estimated $4 million per film. In July she confessed to Parade magazine that she has enough money now to never work again, adding, "but I would never want that."
Number 16

Rupert Grint, $4 million
Born: Aug. 24, 1988
The ginger-topped Harry Potter co-star saw his salary increase substantially for this summer's installment, Harry Potter and the Order of the Phoenix, which has to date grossed $938 million worldwide. Playing Potter pal Ron Weasley should set Grint up for life. He's already filming Half-Blood Prince, with the film adaptation of the final novel, Deathly Hallows, scheduled to follow.