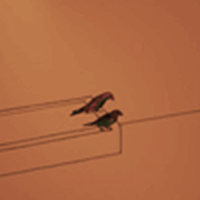 Katie's painting
Katie Leung's artwork to be auctioned
November 28, 2007 at 7:52 AM ET
Geri The Scotsman

katie leung, evanna lynch
---
A painting by "Harry Potter" actress Katie Leung is set to be auctioned

off in Edinburgh today to raise money for the Prince's Trust, Scotland

.
You can read more and see the painting here

and Katie says of her painting:
The meaning behind my drawing shows the two birds encouraging and supporting each other even though life may see hard, boring or monotonous; hence the plain background. But as long as we help each other out and become motivated and hopeful, despite the negativity surrounding us, we will find happiness within ourselves - and this is conveyed through the birds' vibrant colours.