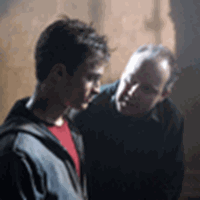 Dan Radcliffe & David Yates
New interview from 'OotP' DVD UK junket
November 25, 2007 at 4:05 PM ET
Geri Yahoo! News (via Jam! Showbiz)

harry potter and the order of the phoenix dvd, order of the phoenix dvd, ootp dvd, daniel radcliffe, rupert grint, david heyman, david yates, dan radcliffe
---
In a new lengthy interview

with Harry Potter director David Yates, producer David Heyman, actors Daniel Radcliffe, Rupert Grint and Emma Watson during the UK press junket for the release of the Order of the Phoenix DVD in London each discuss the franchise as well as the upcoming movies.
David Heyman speaks admirably of first director Chris Columbus and says:
Chris Columbus deserves huge credit in casting who he cast.
They were obviously not the only choices he had. These were the choices he made and I am forever grateful to him for that.
While current director David Yates adds:
They are remarkable children, really. They are very down-to-earth. They are very gifted. They are lovely kids. So it is a very special talent to be able to choose them. That's why I'm going to buy him (Columbus) a pint ... or two.
Additionally, each of the actors give their thoughts on the series:
According to Daniel Radcliffe:
I don't think the franchise, in a way, needs any justification because it is such a leviathan of a thing anyway. Things don't get that big without merit.
But, I suppose, it (extra work on the DVDs) is almost to prove to people that we are, in fact, taking this very seriously. More seriously than people would probably assume. I took it very seriously when I was 11 and (growing up in the Harry Potter role) I've taken it more and more seriously.
So, to me, it's just about letting people know that I'm incredibly serious and passionate about this -- this series of films -- and how much they mean to me. If you've been involved in something for more than seven years now, you want to be able to talk about it articulately and explain why you love it, explain why you loved being involved in it so much.
While Emma Watson adds her thoughts on growing up on screen as Hermione Granger:
It's funny because it happened to me when I was so young. You barely notice yourself growing up when it's happening, but I guess that's what has happened, really. It's very peculiar looking back on them and seeing how much I've changed and how much I've grown and what I looked like before all this happened.
But, in a way, that's what people really identify with. It makes it a real journey -- a very real journey -- because we literally are growing up with the characters.
Finally, Rupert Grint tells of his experience doing the movies:
It's just been an amazing experience. I've enjoyed sort of every moment of it. It's been wicked. It's sad, really, because it does feel that it is coming to an end now with the seventh (Harry Potter and the Deathly Hallows, due in 2010) on the way. It is nearly all over. I think I'm going to miss it. But I'll just sort of move on after that.