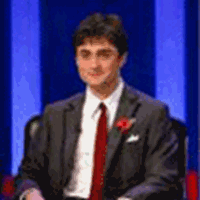 Dan Radcliffe
Video of Dan's appearance on 'Parkinson'
November 4, 2007 at 9:20 AM ET
Geri HPANA

daniel radcliffe, dan radcliffe, my boy jack, parkinson, michael gambon, harry potter and the half-blood prince movie, half-blood prince movie, hphbp movie, hbp movie
---
Daniel Radcliffe, star of the Harry Potter movies, appeared on the British program Parkinson

this weekend to promote his television movie, My Boy Jack

. Dan discussed the WWI movie, growing up a child star and talked about the recent revelation of Dumbledore's character and Michael Gambon's actions while filming the sixth movie, Half-Blood Prince.
You can view some pictures here

courtesy of DR.com.
My Boy Jack will air on British television on Sunday, November 11th on ITV.