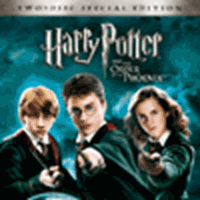 'OotP' DVD
'Order of the Phoenix' DVD to include downloadable files
October 10, 2007 at 5:17 PM ET
Geri Wizard News (via Video Business)

harry potter and the order of the phoenix movie, order of the phoenix movie, ootp movie
---
News comes

from Warner Home Video that the Harry Potter and the Order of the Phoenix DVD, which is scheduled for release in the U.S. on December 11th, will include two downloadable digital files, which will enable the user to download the film to a PC or a portable device.
Jim Wuthrich, Warner senior VP of digital distribution, who unveiled the development at a DVD Forum conference said:
You can buy the DVD and have the option of the digital copy. This future-proofs the format for consumers.
Warner Home Video is the first studio to offer this to buyers of DVD, previously the only offered this format to consumers who purchased the Superman Returns DVD at Wal-Mart.
You can also help out HPANA by ordering your copy of the video through

our site shop. Any purchases are greatly appreciated and help to keep the site running.