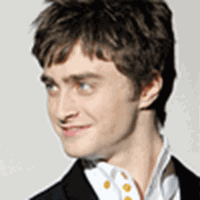 Daniel Radcliffe
Dan Radcliffe talks about life, musicals, future & education
September 28, 2007 at 7:05 PM ET
Geri HPANA (via News Tip)

dan radcliffe, daniel radcliffe, harry potter and the deathly hallows, harry potter, deathly hallows
---
In a new interview

with Harry Potter actor Daniel Radcliffe, Dan talks about his future plans, how he'll feel in 19 years and comments on how he reacted to the last book in the series, Deathly Hallows, and other subjects.
Dan on continuing his education:
What will be great is it's without the pressure of exams and deadlines. He's going to take me through the books you need someone's help with, like Paradise Lost and Ulysses stuff I would never be able to read without help to illuminate it for me.
When asked where he would be in 19 years (paralleling the timeframe in HP7 epilogue):
Hopefully, I'll still be acting. I'll be writing and maybe along the way or further that than, I'd like to direct something. But this is all very hypothetical, so I don't know; I couldn't possibly say.
Thanks to Roger from the Union-Tribune for the link.