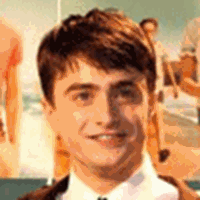 Dan Radcliffe
Update: Roundup of Dan's publicity for 'December Boys'
September 9, 2007 at 9:47 PM ET
Geri HPANA (via Various)

daniel radcliffe, dan radcliffe, december boys
---
This weekend, Daniel Radcliffe continued his publicity tour for his newest film December Boys by visiting Australia. Dan appeared on various television shows from the premieres in Melbourne and Sydney. Pictures from both events are now online.
Videos:
LA Times

(scroll down, video on right-hand side of screen)
Current Affair


Rove Live


Reelz TV

Articles:
AMNew York


Herald Sun


Movies Online


AdelaideNow


Hollywood Today


Associated Press

Images:
GettyImages


DR.com


Dr.co.uk

Thanks to FictionAlley

, DR.com

and DR.co.uk

.
UPDATE: In a pre-recorded interview, Daniel Radcliffe appeared on the Ellen

show from Los Angeles, where he discussed his new movie December Boys, showed fans his American accent & did some tricks with his tongue. You can view the video on HPANA's YouTube page

.