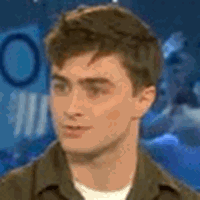 Daniel Radcliffe
Update: Dan starts 'December Boys' publicity in U.S.
September 3, 2007 at 12:32 PM ET
Geri HPANA

daniel radcliffe, dan radcliffe, december boys
---
Daniel Radcliffe, from the Harry Potter series, started the publicity tour in the U.S. for his newest film, December Boys

by appearing on this morning's episode of the Today Show.
Dan discussed the new movie, as well as mentioning that filming for Half-Blood Prince is scheduled to start filming in two weeks and also stated that if Equus comes to Broadway next Spring that he will definitely reprise his role of Alan Strang.
Thanks to VTM

for letting us know that you can also view the video on the Today's Show web site

.
Thanks to DR.net

via Shannon for some pictures

of Daniel outside the MTV studios while in New York.
UPDATE: Thanks to Ami for letting us know about an interview

with the director of December Boys Ron Hardy in which he talks about casting Daniel. You can also read a review of the film here

and here

.
The way I found Daniel is - I'd seen a film called Finding Neverland, with Johnny Depp and young Freddie Highmore; I really liked Freddie. I thought 'there's an up and coming young actor who could bring a lot of heart to the film. His mother is a big agent in London, she read the screenplay and loved it. She became very interested in the project. Then, as months progressed, she said 'How would you feel about having Daniel Radcliffe in your picture?', and I was a bit surprised - he wasn't my first choice, but only because I didn't think we had a chance - but I agreed to let her pass the script onto [Radcliffe's] parents. They then passed it onto him. Within 48 hours there was a response back saying 'they all love it!' So for a while there we had both Freddie Highmore and Daniel Radcliffe.
UPDATE II: Thanks to DR.com for letting us know

that the release dates for the movie have been announced.