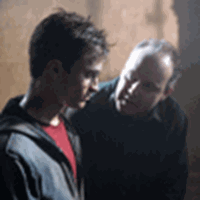 Dan Radcliffe & David Yates
'OotP' audio interviews with Heyman, Yates & Radcliffe
September 2, 2007 at 10:50 AM ET
Geri HPANA (via Various)

harry potter and the order of the phoenix movie, ootp movie, order of the phoenix movie, david heyman, david yates, daniel radcliffe, dan radcliffe
---
With the publicity of Harry Potter and the Order of the Phoenix now over we have some new interviews with David Heyman, Daniel Radcliffe and David Yates, which have just made their way onto the web.
In his interviews

(scroll down for part 1), Daniel Radcliffe answers fans questions, discusses the series, working on Extras and many other things.
UPDATE: You can now hear part 2 of Dan's interview here

. Thanks Ed.
Meanwhile, in another

interview David Heyman and David Yates discuss directing style, casting and editing processes.
Thanks to Snitchseeker

via Shannon and ProfForbin and Ed for all the links.