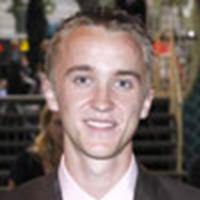 Tom Felton
Tom Felton attends 2007 Carp Tournament in NY
August 17, 2007 at 9:37 PM ET
Geri HPANA (via News 10)

tom felton, 2007 junior carp tournament
---
Tom Felton (Draco Malfoy) from the Harry Potter movies is currently spending

some time in upstate New York attending the 2007 Junior Carp Tournament

.
Tom is hosting the event again this year and was both instrumental in launching the first tournament in 2003 with the St. Lawrence County Chamber.
Tom said the following of the yearly event:
It's always a treat to come back. We get invited by the St. Lawrence Commerce. Just here to support it really and help the children out, where I can, in between catching fish.
Photos from the event will be uploaded on their site later this weekend. Thanks to John for the link.
UPDATE: Pictures from the event have now be loaded and can be seen here

.