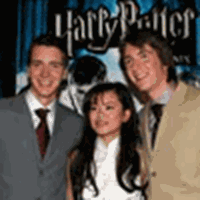 Katie & James & Oliver Phelps
Update: "Potter" cast discuss movie, attend Turkish premiere
August 8, 2007 at 10:38 AM ET
Geri HPANA

harry potter and the order of the phoenix movie, order of the phoenix movie, ootp movie, bonnie wright, oliver phelps, james phelps, matthew lewis, matt lewis, katie leung, evanna lynch
---
In a new interview

with Harry Potter cast members Katie Leung, Matthew Lewis, Bonnie Wright and Evanna Lynch each answer questions from fans in reference to Harry Potter and the Order of the Phoenix movie.
Is it difficult being the underdog in the first few movies, then in this one you get a big role as part of Dumbedore's Army?
Matt: I enjoyed playing Neville in the first few films - making people laugh. I love doing that. Then this year to be given more responsibility in terms of the drama and the motion of the film and the action at the end - it's just been a big step up for me. The challenge has been wonderful and I've really, really enjoyed the last year and hopefully it'll continue.
Ginny's character has developed really well leading up to the important role in book six. Are you looking forward to that? What do you think of the way that Ginny's character has changed throughout the last five films?
Bonnie: In the sixth book and what happens in the relationship with Harry. It really shows she's not the little sister anymore - she's become herself. When I was reading it I wasn't expecting it at all - it was nice. I liked how it came through, as obviously in the first book she showed a liking towards Harry.
Additionally, stars Oliver and James Phelps, as well as Katie attended

the Turkish premiere of the movie recently.
Thanks to Vildan and Jenny for the links.
UPDATE: You can see some great pictures from the Turkish premiere here

courtesy of VTM.