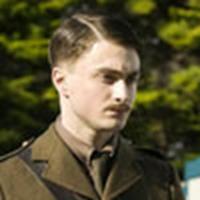 Radcliffe as Jack Kipling
Update: First pictures of Dan in 'My Boy Jack'
August 1, 2007 at 8:39 PM ET
Geri Veritaserum (via Daily Mail)

daniel radcliffe, dan radcliffe, my boy jack
---
The first pictures

of Daniel Radcliffe from his upcoming film My Boy Jack have appeared on the web. The television movie will air later this year on ITV in the UK and U.S. public television station PBS has bought the rights to air the movie via it's Masterpiece Theatre series.
The movie synopsis:
The true story looks at how Rudyard Kipling used his influence to get his 17-year-old son Jack (played by Radcliffe) a commission with the Irish Guards, despite his son's poor eyesight.
Jack went missing in action during the Battle of Loos and his mother and father carried out an ardent search for him, spanning many years and many miles of soul-destroying discovery.
UPDATE: Thanks to HPT

for letting us know that you can see additional pictures from the set of the movie here

.