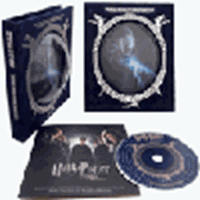 'OotP' soundtrack
Limited edition version of the 'OotP' soundtrack; listen to Nicholas Hooper
July 30, 2007 at 6:01 PM ET
Geri HPANA

harry potter and the order of the phoenix soundtrack, ootp soundtrack, order of the phoenix soundtrack, nicholas hooper
---
You can now purchase

the limited edition version of the Harry Potter and the Order of the Phoenix soundtrack, as well as listen some of the tracks.
The limited edition includes a custom hinged box, with navy velveteen fabric. It features a special 20 page booklet and a foil-embossed front cover.
Also, you can now listen

to an interview with composer Nicholas Hooper on the FictionAlley podcast as well as read

the transcript of the interview online.
Thanks Heidi.