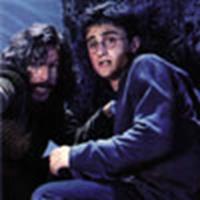 Sirius & Harry
Videos, scans from 'Order of the Phoenix' publicity
July 13, 2007 at 6:36 PM ET
Geri HPANA (via Various)

harry potter and the order of the phoenix movie, order of the phoenix movie, ootp movie, dan radcliffe, daniel radcliffe, emma watson, rupert grint
---
Publicity for Harry Potter and the Order of the Phoenix was in full swing this week with the cast appearing on various television channels as well as appearing in print. We now have numerous video interviews as well as scans from this weeks edition of Entertainment Weekly

which has an interview with Daniel Radcliffe and talks to the cast about the newest movie.
To start us off, the A&E channel in the U.S. recently broadcast a special Hidden Secrets of Harry Potter narrated by Jason Isaac and you can see the clips at the links below:
You can also see Entertainment Weekly's coverage of the movie in our galleries

as well as a review (B+). The online edition of the magazine has an interview with Daniel Radcliffe

and Helena Bonham Carter

as well as a piece on how much the movie may make

for it's first 5 days.
You can also view interviews with Daniel

and Emma

online from Reelz TV.
There is also an interview

online with director David Yates where he discusses his favorite scene and what he wishes he could have kept in the movie.
We also have video of Rupert's appearance

from the Today Show earlier this morning as well as his stop off

at FuseTV while in New York this week.
You can also see Rupert Grint and Emma Watson on Yahoo's The 9

, thanks to TLC for letting us know and finally a piece with the trio from the London press junket last month that was broadcast earlier today on the CW11

TV station in New York.
Thanks to Jonathon, Adam and Shannon for the videos.