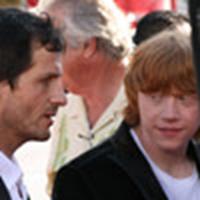 David Heyman & Rupert Grint
HPANA's coverage of U.S. 'Phoenix' premiere
July 13, 2007 at 12:15 AM ET
Geri HPANA

harry potter and the order of the phoenix movie, order of the phoenix movie, ootp movie, daniel radcliffe, dan radcliffe, emma watson, rupert grint, david yates, david heyman, imelda staunton
---
HPANA attended the U.S. premiere of Harry Potter and the Order of the Phoenix this past weekend in Los Angeles and our video interviews

with Dan Radcliffe, Rupert Grint, Emma Watson, David Yates, Imelda Staunton, Chris Rankin, David Heyman and Michael Goldenberg are now online.
In the interview with Dan we have confirmation that he has signed on for the remaining movies despite what some newspapers or entertainment outlets are saying and David Heyman mentions two new characters who will be in the sixth movie.
We also have some interviews

with some of the many fans that attended the premiere.
We attended the press conference on Monday right before the ceremony at Grauman's Chinese Theatre and you can listen to the audio interviews of Dan, Rupert and Emma in Part 1

and with David Heyman, David Yates, Imelda Staunton and Michael Goldenberg in Part 2

.
You can also view some quick pictures of fans and arrivals here

.