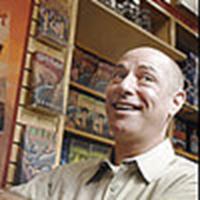 Arthur Levine
Interview with Arthur Levine, the man who brought 'Potter' to U.S.
July 11, 2007 at 4:45 PM ET
Geri Yahoo! News (via Washington Post)

harry potter books, scholastic, arthur levine
---
Arthur Levine, the man who brought the Harry Potter series to Scholastic and the U.S. way back in 1997 recently spoke

about his career, discovering the books for the first time at the Bologna Children's Book Fair and falling in love with them.
Mr. Levine on discovering the first book:
I remember I loved this story of a boy who is treated very badly and really made to feel insignificant and powerless. And then, out of the blue, comes this invitation out. Not only does the invitation promise escape from a life of constant abuse by the "family" that wishes you were invisible, but in your new, magic world, you are already a legend and destined to become "a person of great stature."
I remember loving the humor, thinking she is so funny and thinking that here's a rare range of talents in a writer: somebody who can engage me emotionally and yet who can make me laugh. And whose plot is really driving me forward.
Levine comments on JK:
I feel very, very proud of J.K. Rowling and what she's accomplished. I feel really proud to be associated with a group of such strong books that have brought so many people pleasure.