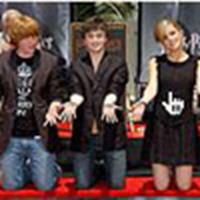 Rupert, Dan & Emma
Update: Radcliffe, Grint, Watson cast permanent spell at Grauman's
July 9, 2007 at 7:20 PM ET
Cheeser HPANA

daniel radcliffe, rupert grint, emma watson, david heyman, grauman's chinese theatre, grauman's forecourt, cement casting ceremony, harry potter
---
Grauman's Chinese Theatre in Hollywood added to its historic forecourt today the hand, foot and wand prints of actors Daniel Radcliffe, Rupert Grint and Emma Watson from the Harry Potter film series. Longtime honorary mayor of Hollywood Johnny Grant officiated the ceremony, which included comments from producer David Heyman and the trio.
HPANA's exclusive video coverage of the event is here (photos soon):
UPDATE: Once again a big thanks to Robert over at IESB

for letting us know that they have loaded images and video from the event.
UPDATE II: You can now view our exclusive images from the event in our gallery

.