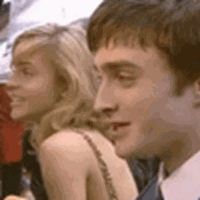 Dan & Emma at premiere
Updated: 'Order of the Phoenix' premiere coverage
July 4, 2007 at 11:01 AM ET
Geri HPANA

harry potter and the order of the phoenix movie, order of the phoenix movie, ootp movie
---
Even with torrential downpours hundreds of fans turned up at Leicester Square today in London for the Harry Potter and the Order of the Phoenix premiere. Photos of the red-carpet arrivals are beginning to appear online and will have additional coverage posted shortly.
You can view video interviews with the cast:
Thanks to the wonderful people over at FictionAlley

for the video:
SpellCast producer Sidney talked to Dan (who has some adorable things to say about Bonnie), Emma, Rupert, Devon, Imelda, Alfie, the Phelps brothers, David Heyman, Michael Goldenberg and more - and even caught a few words with JK Rowling. Lots of the interviewees - but not JKR - spoke about their predictions for Deathly Hallows. Sid also spoke to a bunch of fans, and found some Death Eaters lurking around.
Photos:
Afterparty photos


Rediff


Getty Images

- use the search team Harry Potter And The Order Of The Phoenix
WireImage


Rex Features


CBBCNews

Articles on the event:
Telegraph


Times Online


MSNBC


Yahoo


AP


CBBCNews


Reuters


Burnley Express


Sabc News


Daily Mail


BBC


Metro


The Vancouver Sun


Adelaide Now

Videos:
Stv TV


Cinenews

(click on: Vidéo : Première européenne "Harry Potter 5" à Londres)
Sky News


The London Paper


BBC


JK Rowling


Daniel Radcliffe


Emma Watson


Rupert Grint


Helena Bonham Carter


Matthew Lewis


Evanna Lynch


Phelps twins

UPDATE: You can view some high-resolution images from the premiere here

courtesy of HarryPotterTrio

and here

courtesy of EWOnline

.