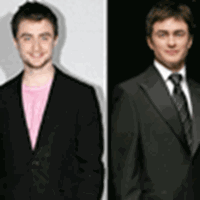 Daniel Radcliffe wax statue
Wax statue of Dan Radcliffe to be unveiled at Madame Tussauds in London
July 2, 2007 at 7:35 AM ET
Geri HPANA

daniel radcliffe, dan radcliffe
---
Daniel Radcliffe, star of the ever-popular Harry Potter movies has joined many other celebrities and has been immortalized in wax at Madame Tussauds

in London. His statue is scheduled to be unveiled

today.
Dan, who was unable to sit for the process, has not seen the wax statue and Colin Jackman, one of the two sculptors who took several weeks to make the life-size model, said:
We had a lot of research from photos and film footage. Most times, celebrities will sit, but in this case, it did not happen.
You can see additional pictures of the statue here

courtesy of Getty Images.