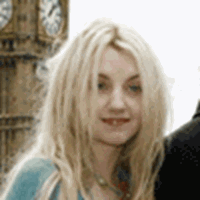 Evanna Lynch
New interviews with Evanna Lynch & Emma Watson
July 1, 2007 at 5:43 PM ET
Geri HPANA

harry potter and the order of the phoenix movie, order of the phoenix movie, ootp movie, emma watson, evanna lynch
---
The interviews just keep coming. Two new interviews with Harry Potter and the Order of the Phoenix actresses Evanna Lynch and Emma Watson have appeared online.
Evanna talks

about the books, whether Snape

is good or bad and the new movie.
Question: So, what's your opinion? Is Snape good or bad?
Answer: Good, good, there is no question in my opinion. I have too much faith in Dumbledore to believe he is bad. I think it would destroy the character of Dumbledore and that would be too tragic to think about. I don't like Snape as a person but I believe he is with the good guys. I think he feels responsible for Lily's death because he told Voldy part of the prophecy without realizing it was about her. And when he found out it was his fault he was completely wracked with guilt and by confessing to Dumbledore and agreeing to help the good side and ultimately Harry, Snape hopes to be able to earn Lily's forgiveness so that he can rest in peace. I also noticed that while Snape was killing Dumbledore, there was hatred blazing in his eyes, and that makes me wonder even if he was killing Dumbledore for Voldemort and not on Dumbledore's orders. There would be no reason for Snape to hate him. Voldemort could, but Dumbledore has never had any relations with Snape that should make him hate him. I don't think it was a mistake that earlier in the book at the cave when Harry is force feeding Dumbledore the potion it is written that Harry was "hating himself" for doing it. Snape was just hating himself for having to kill Dumbledore. He knew it was for the greater good but it still pained him to do it. One could argue that if it was for good intent Snape would not have been able to kill him but I think he channeled the self hatred (there is a lot of self hatred there, poor old Snape) into the curse, and viola, he killed Dumbledore. That's just a little thing, but it contributes to the overall belief: Snape is good.
In a new interview with Emma Watson, Emma discusses

the new film, fashion, traveling to France to visit family and what she wants to do when the movies are all done.
Talking about the Half-Blood Prince movie and kissing Ron:
Kissing Rupert's going to be sooo awkward. I'm trying not to think about it ... it's all part of the job I guess. Don't tell him I said that. Rupert's lovely. Girls would probably give their left arm to be in my position, so I'm certainly not complaining.