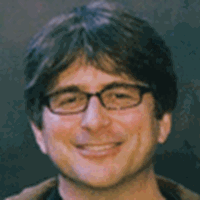 Michael Goldenberg
'Order of the Phoenix' screenwriter considers himself very lucky
June 29, 2007 at 7:13 PM ET
Geri HPANA

harry potter and the order of the phoenix movie, order of the phoenix movie, ootp movie, michael goldenberg
---
Michael Goldenberg, the screenwriter for Harry Potter and the Order of the Phoenix, began his relationship with the franchise over 10 years ago when he wrote a dummy scene for the first movie. Even though he did not get the job he began a friendship with David Heyman that was to prove fruitful in the years to come.
Fast-forward to two years ago when Steve Kloves decided to forgo writing the fifth movie Mr. Goldenberg was offered the job and decided to lose control of his life for a few years. In this interview

, Mr. Goldenberg talks about the process, Umbridge being a great villain, JK's mature themes and writing the scenes between Sirius and Harry.
Mr. Goldenberg's thoughts on when offered the fifth movie:
It was one of those things where the call came in, and you're thrilled, but at the same time there's that moment of realizing you've just lost control of your life for the next couple of years.
And so when I read it, I was very aware of that and very careful to mark up what jumped out at me and what seemed obligatory and what really moved me and what I felt needed to be in the movie.
Goldenberg one of the most pivotal scenes, the pensieve:
...that kind of loss of innocence - seeing a parent whom you've idolized suddenly revealed as flawed, and an authority like Snape, whom you've demonized, suddenly revealed as much more complicated than you first thought.
Goldenberg considers himself very lucky to have written the fifth screenplay and that he was better suited for it rather than the first. When he met JK Rowling all she said was "I just want to see a good film." She read the script and furnished details so that if items where removed they did not impact the next movies.
Thanks to Shannon for the scans.