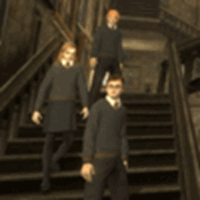 'OotP' video game
Early reviews of 'OotP' video game
June 28, 2007 at 10:07 AM ET
Geri HPANA (via Various)

harry potter and the order of the phoenix game, harry potter and the order of the phoenix video game, order of the phoenix game, order of the phoenix video game, ea games
---
The Harry Potter and the Order of the Phoenix video game, from EA Games, was released earlier this week on all platforms and some reviews have appeared.
Most of the reviews loved the graphics, especially Hogwarts, while some where disappointed with the story as well as the ability of what a gamer can actually do in the game. But overall the reviews remark that it is an improvement on previous games.
You can read some of the reviews below:
Computer and Video Games


International Herald Tribune


IGN.com (AU)


Euro Gamer


IGN.com


New York Times


CBBC Newsround


USA Today


The Advertiser

UPDATE: Thanks to UHP

for letting us know of a Wii commercial for the game, which is funny, and can be seen here

.