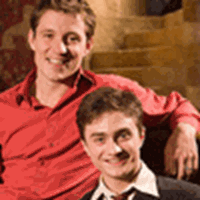 ITV 'OotP' TV special
UK's ITV to show two 'Potter' specials
June 27, 2007 at 2:41 PM ET
Geri HPANA (via Easier)

harry potter and the order of the phoenix movie, order of the phoenix movie, ootp movie
---
Fans in the UK will have a chance to watch two TV specials next month featuring the cast and crew from Harry Potter and the Order of the Phoenix.
The specials, Harry Potter: Behind The Magic is a behind-the-scenes look at the movie with interviews with the cast. The second show Harry Potter: The Costume Drama gives fans details into the wardrobes from the film. There will also be an airing of Harry Potter and the Philosopher's Stone.
A brief description

of the shows is below:
In Harry Potter: Behind The Magic Ben goes behind-the-scenes of the global phenomenon to reveal just what went into making the new film.
There are exclusive chats with cast members including Evanna Lynch who plays new character Luna Lovegood; Imelda Staunton who plays Professor Umbridge and Daniel Radcliffe talks about Harry's first screen kiss opposite Katie Leung who plays Cho Chang.
In Harry Potter: The Costume Drama Ben goes behind-the-scenes on set of most elaborate Harry Potter movie so far and delves into the wizards' wardrobes to find out just how the amazing, intricate costumes come to life.
Costume designer Jany Temime reveals how the outfits go from script to screen for each film, starting with the young wizards and their school uniforms.
Rupert Grint discusses the apparently unassuming clothes he wears as Ron Weasley. And new character, Professor Dolores Umbridge (Imelda Staunton) explains why she's in the pink.
On a less bright and light note, Death Eaters Lucius Malfoy (Jason Isaacs) and the evil Bellatrix Lestrange (Helena Bonham-Carter) explain how their costumes have been developed.
And there's a word from the most evil of evil himself - Lord Voldemort (Ralph Fiennes).
You will need to check ITV.com

for the specific times and if you get a chance to capture the shows please let us know. Thanks to Ryan for the news early this morning.