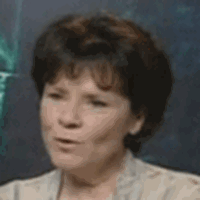 Imelda Staunton
Staunton says 'Phoenix' "serious piece of work"
June 26, 2007 at 8:21 AM ET
Geri HPANA (via SCI Fi Wire)

harry potter and the order of the phoenix movie, order of the phoenix movie, ootp movie, imelda staunton
---
To continue on all the news we have had from the Harry Potter and the Order of the Phoenix press junket this past weekend, Imelda Staunton (Prof. Umbridge) says

that the film was a "serious piece of work" and that the scene with Harry's detention was very hard.
She's there, and she really believes that she's going to help all these children to a better place. I don't know if you're familiar with the institute we have here, called the WI, which is the Women's Institute. If you saw [the film] Calendar Girls, it's that organization. And I would say Dolores has her hat and handbag and a very nice, crisp, clean outfit, coming into this place and just knowing she is going to do an amazing spring cleaning.