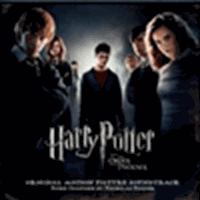 'OotP' soundtrack
Official 'Phoenix' soundtrack site now online
June 25, 2007 at 10:27 PM ET
Geri HPANA

harry potter and the order of the phoenix soundtrack, ootp soundtrack, order of the phoenix soundtrack
---
The official web site

for the Harry Potter and the Order of the Phoenix soundtrack is now online. On the site you can hear clips from the 18 tracks, download AIM icons and add the music player to your blog or myspace page. In the future you will be able to purchase ring tones.
The soundtrack is currently available for pre-order

through Amazon and goes on sale July 10th.
I have to say that after listening to the full soundtrack this weekend that it should be a definite buy for all fans. Thanks to Sam for the tip.