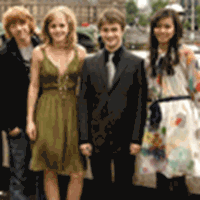 Rupert, Emma, Dan & Katie
Update: 'Order of the Phoenix' stars attend photocall
June 25, 2007 at 10:10 PM ET
Geri HPANA (via Various)

harry potter and the order of the phoenix movie, order of the phoenix movie, ootp movie, rupert grint, dan radcliffe, daniel radcliffe, emma watson, evanna lynch, katie leung
---
Earlier today

the cast of Harry Potter and the Order of the Phoenix attend a photocall

on the South Bank in London. In attendance were Daniel Radcliffe, Emma Watson, Rupert Grint, Katie Leung and Evanna Lynch.
You can see the pictures from the photo call here

thanks to MuggleNet or here

courtesy of Getty Images.
UPDATE: You can view the same pictures in high-resolution here

thanks to DR.com.
UPDATE: II You can also see the images here

from EWonline

.
10,417 views
69 comments
Browse Related Stories
Follow HPANA