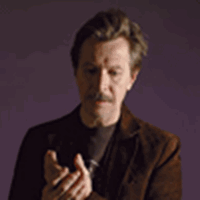 Gary Oldman
Gary Oldman discusses his work and life
June 23, 2007 at 4:44 AM ET
Geri HPANA

harry potter and the order of the phoenix movie, order of the phoenix movie, ootp movie, gary oldman, david heyman
---
In a new interview with Harry Potter actor Gary Oldman, (Sirius Black), he discusses

his career and working on franchise movies and says that working on Order of the Phoenix "... I got to play the character rather than the situation."
Producer David Heyman talks about Gary and says:
Gary's an actor's actor, but also a producer's and a director's actor. He comes prepared, he's collaborative, he's passionate. I've heard the stories - "Oh Gary..." - but nothing could be further from the truth. Gary is a hero. You just want to see him do it more. To have him flexing those not-inconsiderable acting muscles in Harry Potter is a treat.
Thanks to everyone who emailed.