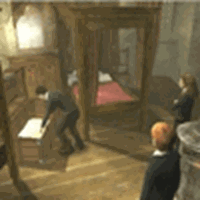 'OotP' video game
Gamers from Asia Pacific can win a chance to attend Tokyo premiere of 'OotP'
June 19, 2007 at 8:16 AM ET
Geri HPANA

harry potter and the order of the phoenix movie, order of the phoenix movie, ootp movie, ea games
---
The official Harry Potter and the Order of the Phoenix game web site

from EA Games

is offering

fans across the Asia Pacific region a chance to win tickets to attend the Tokyo premiere of the movie later this month.
According to the web site

you have to answer this question:
In the movie HARRY POTTER AND THE ORDER OF THE PHOENIX, what is the name of the group of students that secretly gather to learn Defence Against the Dark Arts from Harry Potter?
The competition is open to residents of Australia, New Zealand, Hong Kong, Japan, India, Korea, Singapore, South Africa, Taiwan, and Thailand starting today and ends at 8 am on June 22, 2007. Two winners will each receive two tickets to the Tokyo premiere of the movie, two return flight tickets to Tokyo and back from country of residence, and two nights' accommodation in Tokyo.
Good luck to all who enter.
The Harry Potter and the Order of the Phoenix video game will be released on the June 29, 2007 and will be available on the following platforms: PSP, GBA, Nintendo DS, PS2, PC, Mac, Xbox 360, PS3, Nintendo Wii and mobile phone.